The kitchen is a dedicated space equipped with tools and appliances for preparing food until it's ready to be served. In the past, the only purpose of the kitchen was cooking.
WHAT IS A KITCHEN SET?
As time has progressed into the modern era, kitchens have come to serve more complex functions. That's why the use of well-designed kitchen cabinets has become both a necessity and a lifestyle for people in this modern age.
Kitchen cabinets, more commonly known as kitchen sets, serve as storage for household items, especially cooking utensils.
Today, there are several cabinet designs available to suit different tastes and needs. Installing cabinets that match the size of the room and current trends will undoubtedly make the kitchen more appealing and comfortable.
A kitchen set is one of the pieces of furniture placed in the kitchen. Other pieces of furniture typically found in the kitchen include a dining table set, a kitchen set, cooking appliances (stove), and much more.
6 ADVANTAGES OF A KITCHEN SET
A kitchen set is one of the most important pieces of furniture needed in a house. There are many advantages to having a kitchen set.
1. First, it makes cooking activities easier. Each kitchen set comes equipped with the necessary cooking tools, making it more convenient to prepare meals. This is in contrast to not using a kitchen set, where utensils are scattered everywhere.
2. Second, the kitchen becomes more organized. Using a kitchen set makes the kitchen tidier and more organized. It prevents kitchen items from being scattered around. For example, spices, dishes, and cooking utensils are stored in cabinets that are designed for their specific use.
3. Third, it keeps the kitchen area cleaner. A tidy environment makes the kitchen look cleaner and healthier. Nowadays, many kitchen sets are available in various appealing and beautiful designs, adding to the aesthetics of the kitchen.
4. Kitchen cabinets themselves are widely used because they offer numerous benefits and help organize the kitchen space for greater convenience. Kitchen cabinets consist of upper and lower cabinets, both of which can be designed in different models and styles to suit your preferences and needs.
5. Typically, upper cabinets are used to store various kitchen items or small dining utensils. Upper cabinets can be closed or open shelving units that store cooking-related items such as plates, range hoods and lightweight cooking utensils.
6. Lower cabinets, on the other hand, are used to store larger kitchen appliances for easy access and storage. Base cabinets serve a unique function in creating a more comfortable and organized kitchen space.
Having a kitchen set in the kitchen makes it easier to store and retrieve various cooking utensils, making kitchen activities more manageable.
SUPPORTING EQUIPMENT FOR THE KITCHEN SET
Advanced technology has become a crucial factor in the design and arrangement of kitchen sets. With technological advances, modern kitchen appliances are becoming more practical and stylish, saving time and energy. Therefore, there's no need to hesitate to use modern technology. Some electronic devices required for a kitchen set include stoves, which are the primary cooking tools in a kitchen.
Besides stoves, there are additional components in a kitchen set that serve as smoke extractors (cooker hoods). These appliances provide cleaner and fresher air in the kitchen. Smoke extractors are usually placed directly above the stove. Nowadays, there are various designs of cooker hoods available to enhance the aesthetics of the kitchen. For some Indonesians, a kitchen set is not complete without a hood.
Another element to consider in a kitchen set is the prep table or table top. As part of the kitchen set, the table top serves as a work surface for food preparation. The material of the countertop should be sturdy, scratch resistant, heat and water resistant, and easy to clean. Table tops are available in a variety of materials, including granite, marble, and solid surface.
TYPES OF KITCHEN SETS
Kitchen sets are usually custom made to meet specific needs. Adjusting the size and types of electronic equipment used requires attention to the conditions and space of the kitchen.
To date, various designs and types of kitchen sets can be found in Indonesian homes. Here are some types of kitchen sets.
L-shaped kitchen set
L-shaped kitchen sets are typically used in kitchens with ample space.
Straight kitchen set
Straight kitchen sets are usually used in homes with limited kitchen space, such as those found in condominiums.
Parallel kitchen set
This type is less common in Indonesia.
U-shaped kitchen set
U-shaped kitchen sets are also rare in Indonesia. Some people prefer U-shaped kitchen sets, often from higher income groups, with custom furniture.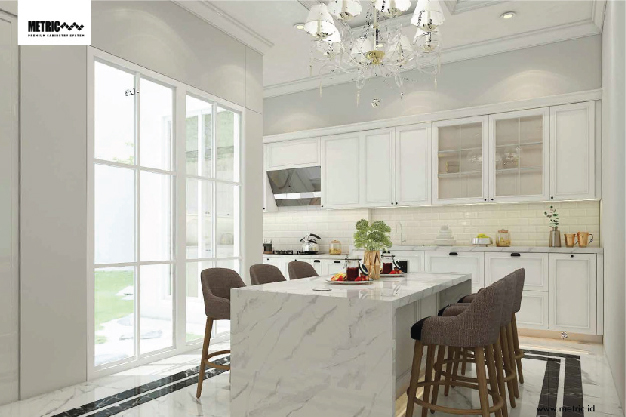 Classic Kitchen Set
Classic kitchen sets tend to feature natural colors, often leaning towards the shades of wood or natural stone. For some, the elegance of classic furniture has stood the test of time. However, classic kitchen sets have also evolved with a more dynamic and minimalist touch.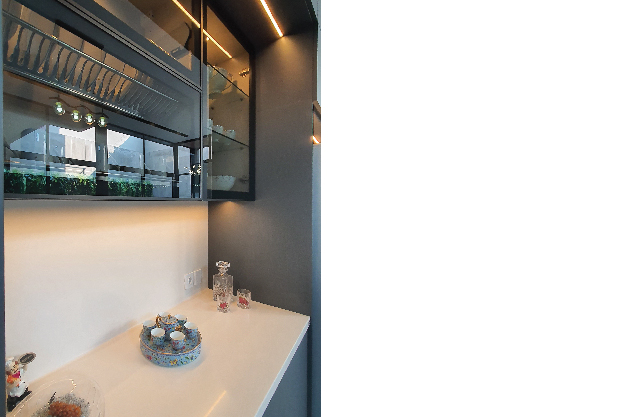 Mini Bar Kitchen Set
This type is typically placed in the center of the kitchen. The mini bar is an optional addition to the kitchen set and serves as a space enhancer for more spacious areas.
ORDERING A METRIC KITCHEN SET
Ordering a Metric kitchen set is straightforward. You can press the floating WhatsApp button on this page to consult with a Metric design consultant who can assist you with measurements, style, and materials for your kitchen set. Not only can Metric create kitchen sets, but they can also craft other custom furniture items such as living room furniture, bedroom furniture, wardrobes, and more.
To see more of Metric's portfolio for inspiration, you can click on this link.